As a digital transformation enabler, we understand that digitizing is just the first step in your digital transformation journey. In order to make the transformation more promising and effective, you need to ensure that you have proper visibility of your end-to-end IT operation. Many organizations are moving from a reactive to a proactive management strategy. But an even smarter strategy is to move towards a predictive management ecosystem. And for that, AIOpS is the solution. Now what is AIOps?
AIOps is the application of AI capabilities such as Machine learning big data, natural language processing, etc. to improve, streamline and automate operational workflows. An AIOps can collect and segregate data from multiple IT components, tools, and systems. The collected data is then analyzed to identify shifts from noise to identify a pattern to predict issues. The predictive analytical capabilities that AIOps brings to the table are extremely enormous. With AIOps, you can also diagnose the root cause and report remediation or resolve it through self-heal.
Research finding state that 70% of IT downtime is unplanned and can be eliminated using AI and automation. It is also noteworthy that about 60% of IT operations management contracts leverage AIOps, compared to traditional monitoring, primarily for event correlation and analysis, unified incident management, automated remediation, preventative maintenance, and full-stack observability.
IT operations' future is towards a zero-touch and zero-incidence ecosystem through self-healing strategy. And this is possible only through automation in totality. Why Zero-touch and zero incidence are important?
With Zero-touch and zero-incidence you can
Be confident about facing uncertainties as the possibilities are near zero.
Be able to tackle the incidence with ease as root cause analysis and the report is readily available.
Cut down on unexpected and bulky expenses like downtime.
Lesser operational cost as automation helps to deskill and run the show with minimum human intervention.
Automate and accelerate problem resolution.
Enable to achieve faster mean time to resolution (MTTR).
Better communication, visibility, and transparency.
Maximum compliance of ITIL framework.
Stay productive and reactive to enable business continuity.
Increased agility and decision-making capability
With AIOp's advanced analytical capabilities, you can carry out:
Root cause Analysis
Anomaly detection
Monitor performance
Cloud adoption and migration
AIOps is a 3 step process.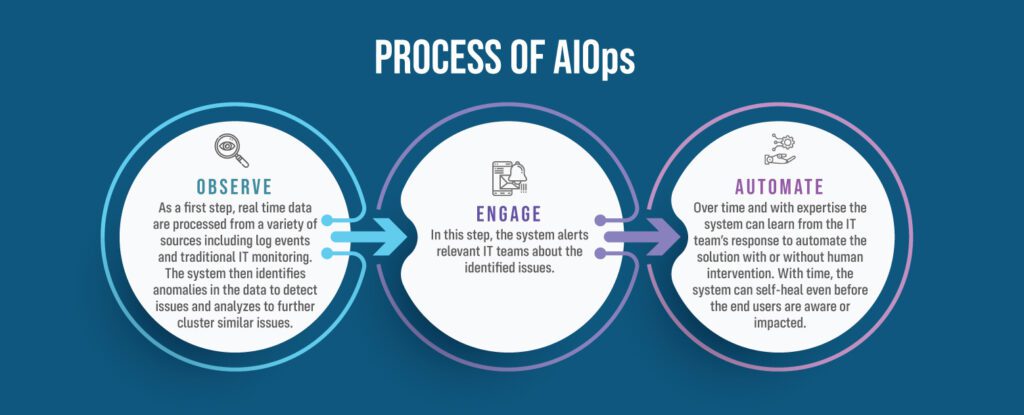 With the advancement of technology and innovations the need to automate and specialize arises. Businesses now see the need and value of automation, analytics and proactive IT management. So the adoption rate will only further rise. Already the ITOps is strengthened with a variety of concepts including DevOps, CloudOps, NoOps etc. With the technology innovation growing so strong, digitizing and ITOps are here to remain. Hence the future is promising and AIOps will play a crucial role in shaping the IT operations and management sector.
Delivering zero-touch operations through predictive, preventive, and self-healing capabilities is what we do. Feel free to book a demo by filling in your details to derive maximum benefit from us as a managed services provider.