Power BI is a data visualization tool that forms a part of the Power Platform Tool Kit. With Power BI, you can connect to multiple data sources and combine them to form a data model. These raw data can then be converted into visual representations to be able to make the raw data easily understandable. This business intelligence tool is used mostly by data analysts and other business professionals.
Power BI enables you to create, share, and consume business insights in the way that serves you and your business most effectively. The power BI dashboard helps you to gauge the health of your business from a high level. You can further drill down to individual reports level to get detailed information. Power BI is available as an application for the desktop and on mobile devices of all platforms.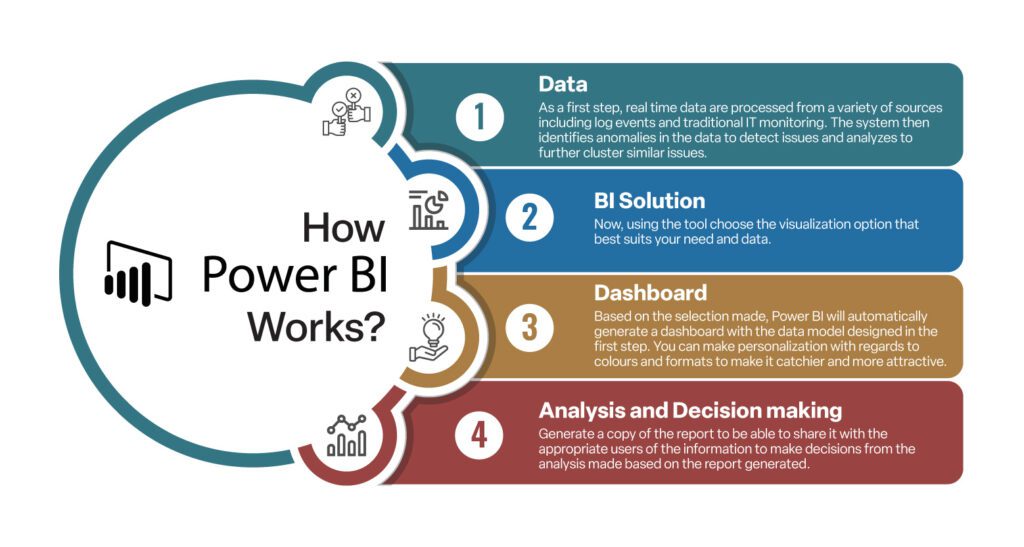 Data – Step one of the visualization effort is to gather data from various sources and consolidate it into a data model.
BI Solution – Now, using the tool choose the visualization option that best suits your need and data.
Dashboard – Based on the selection made, Power BI will automatically generate a dashboard with the data model designed in the first step. You can make personalization with regards to colours and formats to make it catchier and more attractive.
Analysis and Decision making – Generate a copy of the report to be able to share it with the appropriate users of the information to make decisions from the analysis made based on the report generated.
In short, Power BI can connect all your data and get a consolidated view of your business through a single window. Create ad-hoc analysis, interactive reports and live dashboards that are easy to consume on the web and across devices. Build smart apps by infusing insights from your data and derive actions with the power of Microsoft power platform.
How Impiger can help with Your power BI needs -
Impiger, as a Power BI enabler, helps organizations to Tailor BI to meet their organization's specific needs. We also provide professional unbiased advice on what products and tools to select. We ensure to Deliver BI solutions end-to-end -or manage the project and deliver specific phases on areas of greatest value and defer/eliminate limited value areas.
Impiger takes utmost care of each and every project attended to. We provide a tailor-made solution to each project as there is no one size that fits all concepts in Power BI. As a Power BI enabler, we have a proven track record of successful BI implementations across industries. As a market differentiator, we are product agnostic, and our project managers are certified PRINCE2 and PMI professionals.
Why Power BI is better for your business
User Friendly – Power BI is user-friendly for both technical and non-technical users to create and customize reports and dashboards.
Seamless Integration – You can easily integrate into other Microsoft products, making data integration and collaboration from other tools very easy and efficient.
Data Connectivity – Power BI has an extended variety of options for data connectors , thereby enabling you to connect to various data sources.
Security & Governance – Power BI has robust security features to ensure your business data is secure and intact.
Extensive Community Support – Power BI has a vast community with numerous learning sources to troubleshoot issues, learn new features, and share knowledge.
When Power BI has so much to offer, why wait? Reach out to us with your requirement, and we can help guide you with the best solution. If you have any questions or queries, feel free to contact us for an expert panel discussion.