Chennai, India: October 10, 2023 – Impiger Technologies has been accredited with ISO/IEC 25010:2011 Systems and Software Quality Requirements and Evaluation, ISO/IEC 27001:2022 Information Security Management System and ISO 9001:2015 Quality Management System based on the recent audit conducted by the governing body. The accreditation has been issued to multiple Impiger's offices operating across the globe.
Details of the accreditation:
ISO/IEC 27001:2022 Information Security Management System is the world's best-known standard for information security management systems (ISMS). Obtaining the certification means that Impiger as an organization or business has put in place a confidential, available and ethical system to manage risks related to the security of data owned or handled by the company, and that this system respects all the best practices and principles enshrined in this International Standard.
ISO/IEC 25010:2011 Systems and Software Quality Requirements and Evaluation model evaluates Impiger's supporting specification and evaluation of software and software-intensive computer systems from different perspectives by those associated with their acquisition, requirements, development, use, evaluation, support, maintenance, quality assurance and control, and audit.
ISO 9001:2015 Quality Management System evaluates Impiger's efforts to enhance customer satisfaction through the effective development of the application system, including processes for improvement of the system and the assurance of conformity to customer and applicable statutory and regulatory requirements. With agility, a key focus of their business objective, Impiger has outshined all expectations related to quality in all forms.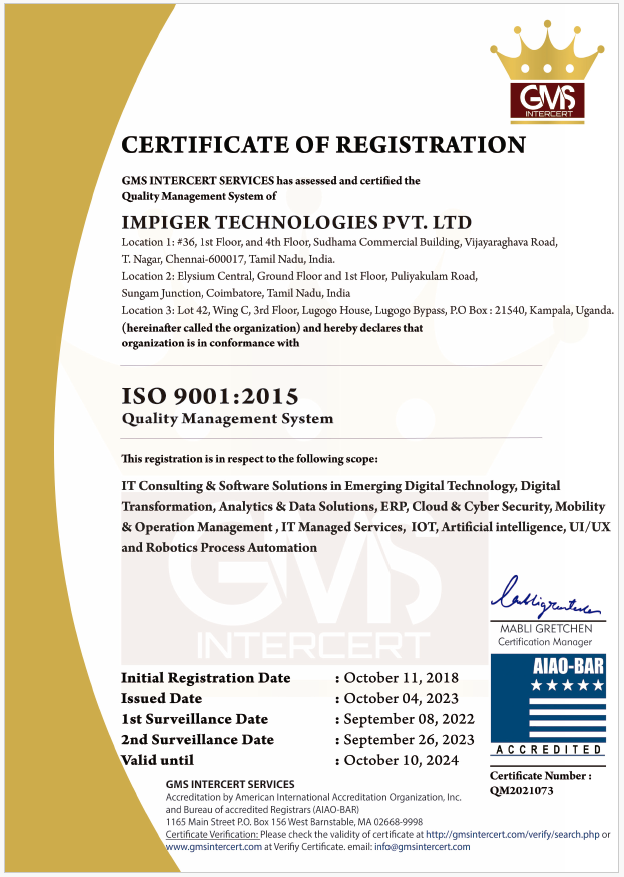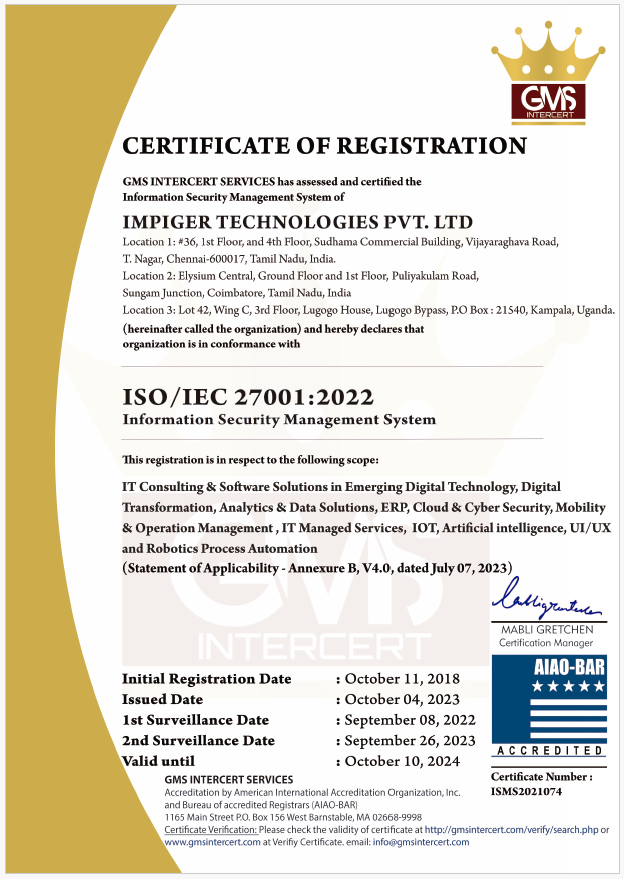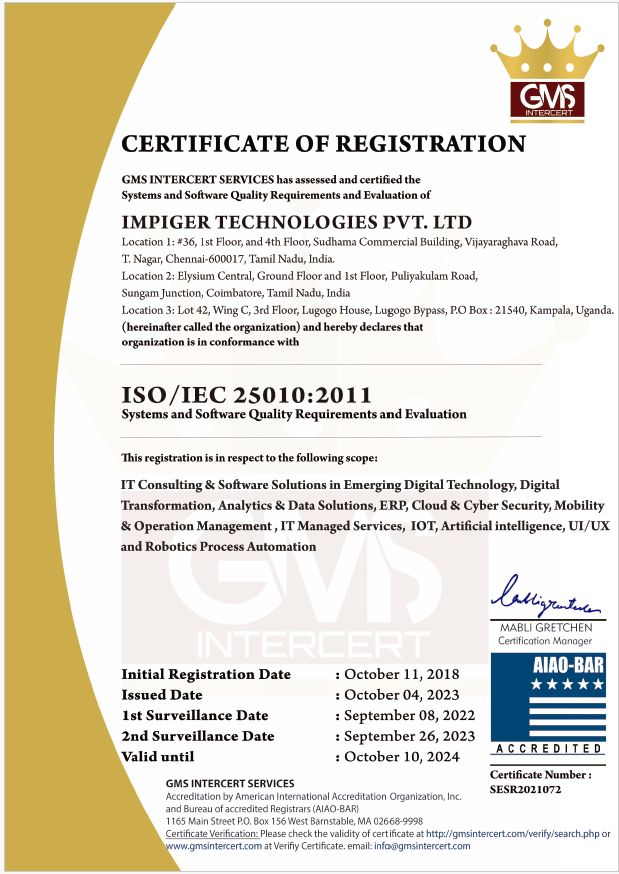 This accreditation is a testament to Impiger's dedication in delivering quality products and solutions to their clients.
P R Venkatesh, Senior Director of Transformation Office, said, "Impiger well deserves this accreditation as a mark of the sustained endeavor to rapidly transform the processes and improve the performance objectives. Our determined sprit has been the catalyst in achieving this success."
Impiger Technologies has demonstrated what is required to protect its business and, more significantly, clients' businesses. Impiger's focus on business continuity through consistent processes, metrics and methodologies has enabled them to provide a secure environment for delivering high-quality services to clients.
Lakshmi Narasimhan, Senior Director CISO, exclaimed, "Our consistent effort in securing the services for our client's safety has been well recognized through this accreditation. This recognition will serve as a motivator to excel in our future security endeavours!"
With bells of exuberance and jubilation, Impiger is all set to take a leap and revolutionize the industry with its quality and secure services.